TSSA Bouncy Castles Rentals
We are TSSA Licensed for all events in Ontario and fully insured with a 5 million liability policy.
Important Details About the laws in Ontario and the TSSA
Important To Know:
TSSA-licensed inflatables are required by law to be used for any event not on residential property if guests will be climbing or bouncing on the device.
The Technical Standards and Safety Authority (
TSSA
) is responsible for enforcing safety laws in Ontario related to the operation of inflatables, such as bouncy castles, obstacle courses, and inflatable slides. These laws require that inflatables be inspected and certified by the TSSA and that
operators follow strict safety guidelines
to ensure that the inflatables are used safely. This includes ensuring that the inflatables are properly anchored and supervised at all times, and that safety guidelines are followed for the number and weight of users. Violations of these laws can result in fines or penalties.
Learn more about the Technical Standards and Safety Act at the bottom of this page.
Here are some examples of locations that would require a TSSA-licensed inflatable.



Schools, Day Cares




Religious centers such as Church, Mosque, or Temples




Weddings, Fundraisers, Golf Courses




Park

(Check with municipality/Parks for Permit requirements to set up inflatables and generators)



Community Fairs, Festivals, Events, Community Centres, Halls, Arenas, or Street parties (Permits may be required)



TSSA Licensed Equipment is Limited Inventory be sure to Reserve Your Date in Advance!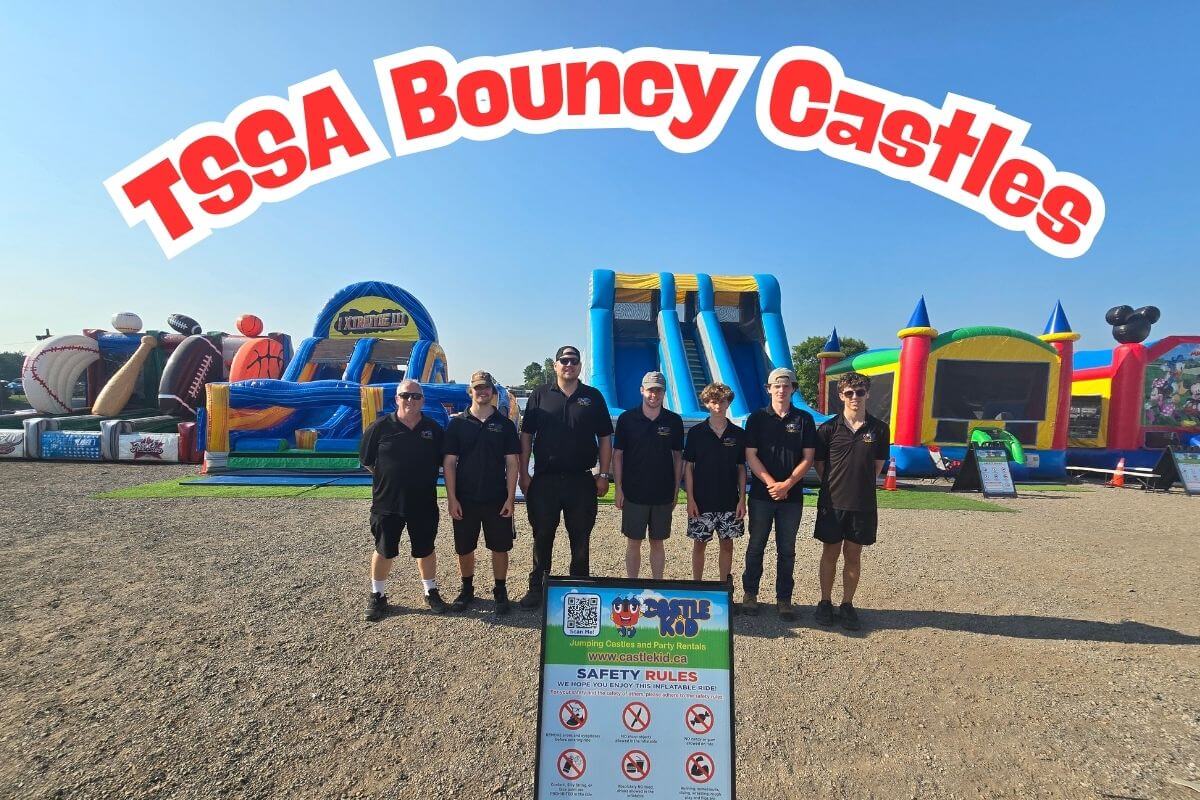 Reserve Your Event Date in Advance!
Reserving equipment and reserving event dates in advance is important because it ensures availability and prevents disappointment. TSSA licensed equipment, for example, is a limited inventory item and once it is booked, it may not be available for other events. Additionally, reserving event dates in advance allows for proper planning and coordination, ensuring that all necessary equipment and resources are available for the event and that the event runs smoothly.
Event's over $1500 Are Elegible for discounts!
Contact Us For More Details...Let us quote your next event!
We Make IT Easy!
Looking to add some excitement to your special event? Consider renting a TSSA-licensed inflatable from us!
At Castle Kid jumping Castles, we take the safety of our customers and the public seriously. That's why we've obtained the necessary TSSA licensing to operate bouncy castles and other inflatable rentals at public events, such as school fun fairs, festivals, churches, parks, and corporate parties. This licensing ensures that we follow strict guidelines and undergo annual inspections and permit processes to guarantee the safety of our equipment with your kids..
When you choose a TSSA-licensed rental company like ours, you can trust that we have met the insurance and safety requirements set forth by the Government of Ontario and that our equipment has passed TSSA annual inspections.
We serve the Toronto and GTA area, including Oshawa, Whitby, Ajax, Pickering, Scarborough, Bowmanville, Courtice, Port Perry, Port Hope, and the Cobourg area, and are even willing to travel outside of our normal service area for events that require multiple inflatable rentals. Contact us today to learn more about our TSSA-licensed inflatable options for your next special event.
Technical Standards Safety Act
The Technical Standards and Safety Authority's (TSSA) Amusement Device (AD) safety program regulates amusement rides in Ontario to ensure all devices conform to the Technical Standards and Safety Act and applicable regulations, codes and standards.

TSSA Licensed inflatable bouncy rentals are a must for any non residential event to ensure the safety of the public the Government of Ontario has legislation that applies to these bouncy castles and jumping castles that are covered under The Technical Standards & Safety Act, 2000 (the "Act") it is a legal document issued by the Government of Ontario that appoints TSSA as the "corporation without share capital" responsible for the regulation of amusement devices. You can find more information by following this link https://www.tssa.org/en/amusement-devices/amusement-devicesThe Technical Standards and Safety Authority (TSSA) is responsible for the administration and enforcement of the Technical Standards and Safety Act and its regulations on behalf of the Government of Ontario.

Schools, Day Cares
Religious centers such as Church, Mosque, or Temples
Weddings, Fundraisers, Golf Courses

Park

(Check with municipality/Parks for Permit requirements to set up inflatables and generators)
Community Fairs, Festivals, Events, Community Centres, Halls, Arenas, or Street parties (Check for Permits)