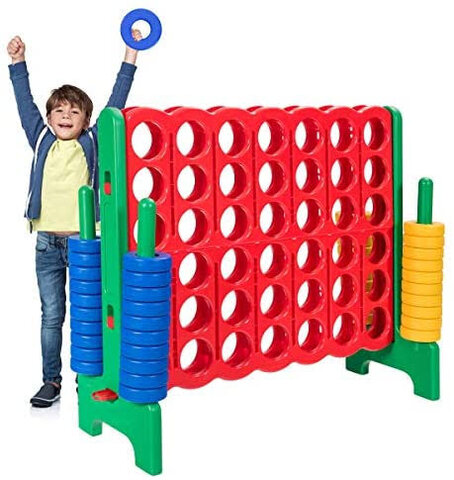 Jumbo Connect 4
Actual Size: L x 46.5" x 16.5 x W x 41" l





Available Booking Options For Residential Deliveries

| | |
| --- | --- |
| 6 Hours | $70.00 |
| Overnight +$75 | $70.00 |
| Multi-Day +$100 | $70.00 |
| 3 Days | $70.00 |
| Multi Weekday | $70.00 |

*Multi-Day Rentals are $100 extra per day
*Overnight Pickups start at 9:00 AM



Jumbo Connect 4 Rental
Fun Backyard Games
PLEASE NOTE: Castle Kid Jumping Castles has a minimum order of $200 for our delivery service. If your order falls below this please send us a text message at (905) 571 0014 to discuss further options.
Product Overview
Challenge family and friends to disc-dropping fun with the classic game of Connect 4! Drop your discs in the grid and be the first to get 4 in a row to win. If your opponent is getting too close to 4 in a row, block them with your own disc! Whoever wins can pull out the slider bar to release all the discs and start the fun all over again!
About This Item:
Our Jumbo game is made of high-quality materials and is simple to assemble in just two minutes. In this way, the playing field will be unrestricted and you can compete with family and friends anywhere.

The Jumbo Connect 4-To-Score Giant Game is an oversized version of the classic 4-in-a-row game. With it, family game nights become even more exciting. The rules are very simple and children can learn them quickly.

The Jumbo Connect 4-to-score giant game set is very durable and will not harm the user's safety to ensure that the player will not be scratched during the game.

Product Size is 46.5" x 16.5" x 41.0" (L x W x H) Jumbo Connect 4 is easy to set up indoors or outside and easily transportable.
Bring Your Next Event To Life...
RESERVE YOUR DATE TODAY!
We, Will Take it From There...
Jumbo Connect 4