All of our 13 x 13 bouncy castles have basketball nets inside for an extraa element of FUN!
Bouncy castle rentals also know as a jumping castle or bounce house are always a great way to entertain kids at any party or event. All of our inflatable bouncy castle rentals are of the highest quality standards in the industry. We ensure each bouncer has a safety step at the front entrance to help the kids enter and exit the inflatable safely and inside the bounce area of all our 13 x 13 bouncers you will find an inflatable basketball net to give the kids an additional feature to interact with while jumping and bouncing around. Browse the Selections below and click on the image or "More Info" link to get additional information and to make a reservation.
FREE WEATHER CANCELLATION POLICY
100% Refund will be given on any weather forecast of 5mm of rain or more by The Weather Network during the event times you have chosen on your agreement. Please email steve@castlekid.ca before 3 PM the day BEFORE your rental start date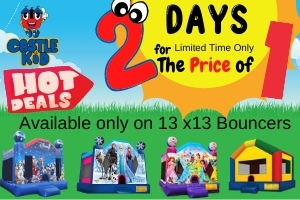 2 Days for the Price of 1 Day for a limited time only

To take advantage of this hot deal simply click any of the below 13 x 13 bouncers and enter your event start date and time then click on the "Multi-Day" tab and select the next day with a pick up of 4:00 PM. We will assign a pick-up time of 4:00 PM or later for your rental.
Bouncy Castle Rentals

Unlike some bouncy castles or jumping castles, all of our inflatable bouncers have mesh walls surrounding the bounce area to ensure the kids are kept safe and are unable to fall out of the inflatable while bouncing and jumping inside. We also have safety steps at the entrance of all of our inflatables to help the kids enter and exit the inflatable in a safe orderly fashion.

The entrance has mesh retractable netting that allows it to easily be lifted up as you enter or exit to ensure the kids are unable to accidentally slip out. This is a must-have safety feature for all of our inflatable bouncers so that we can provide a secure area for the kids to bounce and play.
If you are looking to Rent a Bouncy Castle with slide our larger combo slides can be found here: Combo Bouncers
Jumping Castle Rentals

Do you want to rent a jumping castle for your backyard party or event? If so you have come to the right place. Just read our online Google Reviews and Facebook Reviews to get an idea of what you should expect when you rent from Castle Kid jumping Castles.

We will provide a safe and clean environment for your kids and guests to enjoy while providing the best experience from start to finish with our instant online pricing and up to the minute live inventory all you need to do is place your order online and we will take it from there while keeping you informed every step of the way.

We have many bouncy castles and jumping castles to choose from including our themed Disney bouncers we service the Toronto, Oshawa, Ajax, Whitby, Bowmanville, and Clarington regions including Cobourg Port Hope and Port Perry. We deliver our inflatable bouncy castle rentals to your backyard set up and then come back to take it away leaving you to have a fun-filled day with friends and family.

Reserve your bouncing castle from Castle Kid Jumping Castles and know you're getting the highest in quality and service for your special day.
Dont Trust Just Anyone On Your Special Day Choose
Castle Kid Jumping Castles and Party Rentals
For A Clean, Safe Hassle-Free Fun Event.