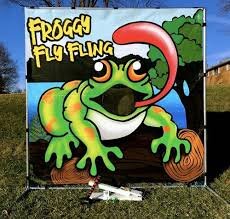 Froggy Fly Fling
Actual Size: 6' wide
Setup Area: 6' x 10'
Outlets: 0
Age Group: 2+





Available Booking Options For Residential Deliveries

| | |
| --- | --- |
| 6 Hours | $99.00 |
| Overnight +$75 | $174.00 |
| Multi-Day +$100 | $199.00 |
| 3 Days | $299.00 |
| Multi Weekday | $199.00 |

*Multi-Day Rentals are $100 extra per day
*Overnight Pickups start at 9:00 AM



Ladies and gentlemen, boys and girls, welcome to Froggy Fly Fling - the game where you get to fling insects into the mouth of our hungriest, hoppiest froggy friend!
Here's how it works: step right up to the lily pad, grab an insect of your choice, and let 'er fly! You'll use a slingshot to fling the bugs towards the open mouth of our giant, grinning frog.
But beware - this froggy has an appetite to match his size, and he's not too picky about what he eats. You'll have to dodge his long, sticky tongue and aim carefully to get your bugs into his mouth. And if you're not quick enough, he'll snatch your bugs right out of the air!
Don't worry, though - we've got all kinds of creepy-crawly bugs to choose from, including crunchy crickets, juicy beetles, and squirming worms. And our froggy friend is more than happy to help you out - he'll be cheering you on, gobbling up bugs.
So come on over to Froggy Fly Fling and see if you've got what it takes to feed our ravenous amphibian. It's a game that's perfect for kids and adults alike, and with a colorful froggy friend and a slew of tasty bugs, it's sure to be a hit with everyone. Let's get flinging!