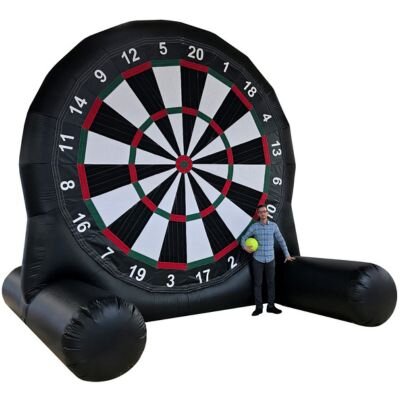 16' Inflatable Soccer Darts
Actual Size: L x 5' x W 16' x H 16'





Available Booking Options For Residential Deliveries

| | |
| --- | --- |
| 6 Hours | $349.00 |
| Overnight +$75 | $424.00 |
| Multi-Day +$100 | $449.00 |
| 3 Days | $549.00 |
| Multi Weekday | $449.00 |

*Multi-Day Rentals are $100 extra per day
*Overnight Pickups start at 9:00 AM



16 Foot Tall Soccer Darts!

Introducing the Ultimate Inflatable Soccer Dart Game: Kick, Score, and Bullseye Your Way to Glory!Are you ready to take your school fun days, special events, and festivals to the next level of excitement? Look no further! Get ready to unleash a storm of laughter, cheers, and unforgettable memories with our 16 ft Inflatable Soccer Dart Game!
Get Your Kicks: Step onto the inflatable field and channel your inner soccer superstar! With a massive 16-foot dartboard, you'll have plenty of space to show off your best moves, jukes, and epic trick shots. It's soccer like you've never played before!
Aim for Greatness: Just like a classic game of darts, but with a twist! Use your soccer skills to aim and kick soft, velcro-covered soccer balls at the giant dartboard. The goal? Hit the bullseye and become the soccer-dart champion!
Non-Stop Laughter: Watch as players and spectators alike burst into fits of laughter as they watch the balls fly, curve, and sometimes even bounce back unexpectedly. It's a hilarious, action-packed experience that will have everyone on their feet!
Perfect for All Ages: Whether you're a soccer pro or a complete beginner, our inflatable soccer dart game is designed for players of all ages and skill levels. It's an inclusive activity that guarantees hours of fun for kids and adults alike.
Competition and Team Spirit: Gather your friends, classmates, or colleagues and divide into teams for some friendly competition. Who will score the most bullseyes? It's the perfect way to build team spirit and sportsmanship.
The ideal addition to school fun days, special events, and festivals. It comes with everything you need, including a powerful air blower.
Festival Favorite: Stand out at festivals with this eye-catching inflatable attraction. It's sure to draw a crowd and keep them entertained for hours.
Whether you're hosting a school fun day, a special event, or a festival, our 16 ft Inflatable Soccer Dart Game is the ultimate crowd-pleaser. It's a unique combination of soccer skills, dartboard precision, and side-splitting entertainment that will make your event the talk of the town. So, why wait? Kickstart the fun today and let the games begin!