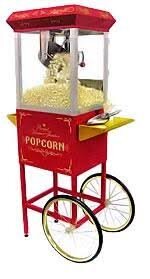 Popcorn Machine with Cart 8oz Red
POPCORN MACHINE RENTALS
Red Popcorn Machine with Cart 8oz
Our Popcorn Machine Rentals bring the taste of theater-style popcorn right to you and are very easy to make. Each bag is pre-packaged with kernels and coconut oil simply open the bag and pour contents into the heated popper and wait for it to fill the air with the distinctive smell of freshly popped popcorn and it will be sure to attract the attention of your audience.
Rental price Includes first 50 servings and serving bags (7-inch bags)

Additional servings can be purchased billed at .50 per serving for each additional 50 servings including serving bag.

Customer to ensure that the machine is given back to us in a clean and wiped down condition prior to the driver arriving for pick up to avoid additional cleaning charges.
PLEASE NOTE: Food machines must be operated in a well-ventilated area to ensure they do not trigger fire alarms. The Popcorn machine will require a standard household outlet 120 Volt/15 Amp. Make sure the popper is on a dedicated outlet and that there are no other appliances or blowers are on the same outlet or circuit.
Rent a Popcorn Machine Reserve yours Today!