Snow Cone Machine (Ice Not Included)




Available Booking Options For Residential Deliveries

| | |
| --- | --- |
| 6 Hours | $95.00 |
| Overnight +$75 | $95.00 |
| Multi-Day +$100 | $95.00 |
| 3 Days | $95.00 |
| Multi Weekday | $95.00 |

*Multi-Day Rentals are $100 extra per day
*Overnight Pickups start at 9:00 AM



Snow Cone Machine Rentals
Snow Cone Machine (No Cart)
PLEASE NOTE: Castle Kid Jumping Castles has a minimum order of $200 for our delivery service. If your order falls below this please send us a text message at (905) 571 0014 to discuss further options.
Beat the summer heat, There's nothing quite like an icy, tasty treat on a hot summer's day.
Product Overview
6 Lbs or 2.7 Kg bags (most common) of ice will make approximately 12-15 snow cones at 4-6 oz per cone. (Not Included)
Includes the first 50 servings and serving cones.

Snow Cones are made with shaved ice (ice not included) and flavored syrups are served in paper cone cups.

Additional snow cone cups are syrop can be added at a rate of $25.00 and includes an additional 50 servings (Syrop and Cones)

Snow Cone Machines provide a fun way to cool down the kids after jumping in one of our bouncy castles.

Customer to ensure that the machine is given back to us in a clean and wiped down condition prior to the driver arriving for pick up to avoid additional cleaning charges.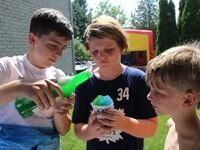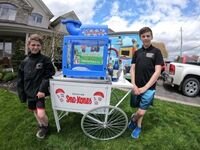 Rent A Snow Cone Machine
RESERVE YOUR DATE TODAY!
We, Will Take it From There...