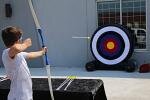 S.A.F.E Archery Stick It Target Shoot
Outlets: 1
Age Group: All Ages
Attendants: 1 Responsible supervisor at all times





Stickit Safe Archery Games
This Non-Lethal Arrow has a foam tip like you would find on a kids Nurf toy. The arrow offers the same flight characteristics of a standard arrow yet is much safer, Safe for the kids and adults to safely challenge each other This comes with options of Bullseye target, XoXo Game or Dartboard facia that can easily be changed to add variety and options for skill level Whether you have been shooting for years or have never picked up a bow, the S.A.F.E. Archery Arrow offers a new way to experience archery.
Review The Set-Up Area Space Required and
RESERVE YOUR DATE TODAY!